The Sacred Valley of Peru is a beautiful, remote region that offers travelers an unforgettable experience. From its stunning mountain peaks to its ancient ruins, the Sacred Valley has something for everyone who visits. Whether you are looking for adventure or relaxation, the Sacred Valley will not disappoint.
The Sacred Valley was an important area for the Inca Empire during its rule over much of South America. The ruins left behind by these people are still visible today. These ruins giving visitors a glimpse into the Andean culture from centuries ago. From Chinchero to Ollantaytambo, there are plenty of archaeological sites to explore in the valley that will provide insight into how the Incas lived hundreds of years ago.
In addition to its historical significance, the Sacred Valley also offers some spectacular scenery. With snow-capped mountains surrounding lush green valleys and terraced hillsides full of vibrant wildflowers, this region provides an unforgettable backdrop for any journey through Peru. Whether you choose to hike or take part in other outdoor activities, you won't be disappointed!
In this article, we will share with you four of the best places to visit in this incredible valley. So, you can get the most out of your time there. Put on your explorer's hat and join us as we explore some of the must-see sites in the Sacred Valley!
1. Ollantaytambo
Ollantaytambo is an ancient Inca town located in the Sacred Valley of the Incas, near Cusco, Peru. It was built in the 15th century. It is one of the few places that still retains its original Inca architecture. The town is a popular tourist destination for its stunning views of nearby mountains and terraces, as well as its archaeological sites.
Ollantaytambo also has some interesting religious sites such as the Temple of the Sun, the Temple of the Condor, and the Temple of the Water. Visitors can explore these ancient ruins or take part in adventure activities like hiking or white water rafting on nearby rivers. The area around Ollantaytambo offers plenty to do, from exploring local markets to enjoying traditional Peruvian cuisine at restaurants nearby.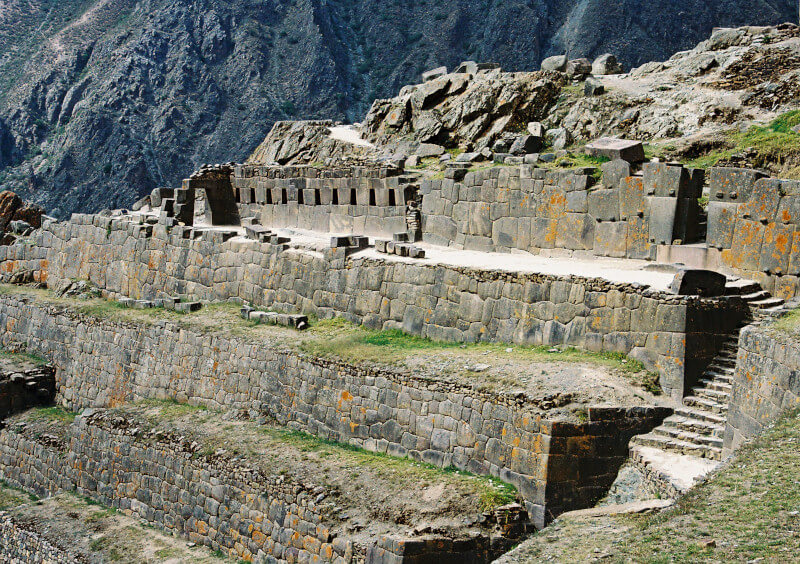 2. Pisac
Located at the entrance of the Sacred Valley, Pisac offers a unique insight into local life and culture. It is also a great spot to get stunning views of the surrounding landscape.
The Pisac Inca ruins consist of an extensive archaeological site with a mix of terraces, towers, and other monumental structures. These buildings were used by the Incas to control and defend their empire. The ruins have been well-preserved over time and offer visitors a unique glimpse into the past.
Visitors can explore these ancient ruins via guided tours or on their own. Not only these ruins provide insight into the lives of those who lived here centuries ago, but they also offer stunning views of the surrounding landscape.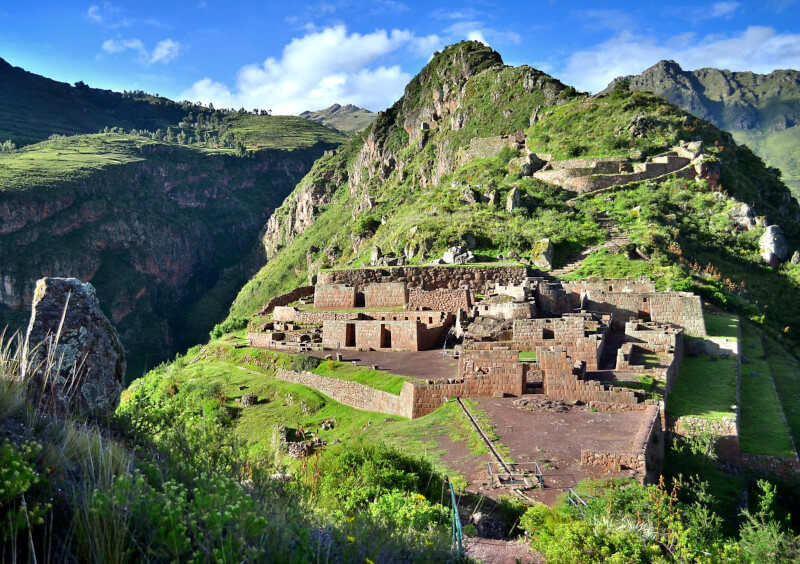 3. Moray
The Moray Inca ruins are an archaeological site located in the Sacred Valley of the Incas near Cusco, Peru. The ruins consist of several large circular terraces built into a deep bowl-shaped depression in the earth.
Historians believe that these terraces were used for agricultural experimentation purposes by the ancient Inca people. Also, this unique design has led some to speculate that it may have been used as an astronomical observatory or a ceremonial center. Today, visitors can explore this incredible site and learn more about its fascinating history.
4. Chinchero
Chinchero is a small village located high up in the mountains near Cusco, which features traditional weaving techniques and stunning views over both sides of Urubamba valley.
The Church of Chinchero is a colonial-era Catholic temple built by Spanish conquistadors in 1590. It features unique architecture with a blend of Inca and Spanish styles. The church stands out for its beautiful white walls, as well as the surrounding terraces that offer stunning views of the Sacred Valley.
Inside, visitors can admire an impressive ceiling painting depicting Jesus' ascension to heaven, which was painted during the 16th century. The Church of Chinchero also holds many religious artifacts such as sculptures and crosses made from carved stone or wood. Today it remains an important part of Peru's cultural heritage and a popular tourist destination for those interested in learning about local history and culture.