If you are looking for an alternative to the ever-popular Vinicunca Rainbow Mountain in Peru, look no further than Palccoyo. This lesser-known mountain is just as stunning and offers a much quieter experience than its more famous counterpart.
Located in the Cusco region, Palccoyo is a mountain with rainbow stripes that stretch across its sides. The colors range from lavender and turquoise to red and yellow – all of which make for some amazing photo opportunities! It stands at around 4,900 meters (16,076 feet) above sea level, so be prepared for altitude sickness if you plan on visiting it.
The best way to get to Palccoyo is by taking a day trip from Cusco with a tour company. Most tours will include transportation to the base of the mountain as well as entry fees into any nearby attractions. From there, visitors can hike up the slopes of Palccoyo until they reach its summit where they can take in sweeping views of surrounding valleys and mountain sides below them. Truly an unforgettable experience!
One thing that makes this destination stand out among other Peruvian hikes is how quiet it usually remains throughout the year. Even during peak season it still remains relatively uncrowded compared to other tourist spots like Machu Picchu or Vinicunca itself! Additionally, due to its lower popularity there are fewer restrictions placed upon visitors making it easier (and cheaper!) than most other destinations in Cusco.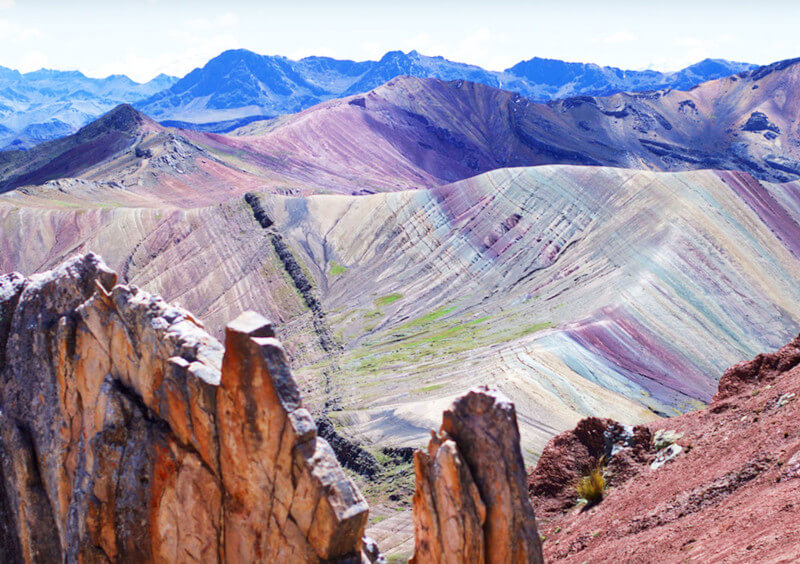 Vinicunca or Palccoyo?
Vinicunca and Palccoyo are two of the most known rainbow mountains in Cusco. These two sites are often confused due to their similarities, but they each offer an unforgettable experience. We will discuss the differences between Vinicunca and Palccoyo so that you can make an informed decision on which one is best for your adventure.
1. Color: Vinicunca has colorful stripes of red, blue, yellow and green that stretch across its surface due to mineral deposits. On the other hand, Palccoyo only features shades of pink and purple distributed on line patterns.
2. Height: Vinicunca is 5,200 meters (17,060 feet) above sea level, while Palccoyo stands at 4,900 meters (16,076 feet) above sea level.
3. Difficulty Level: The hike up to Vinicunca is more difficult than the one to Palccoyo as it requires a higher altitude adjustment time for hikers due to its height and remoteness. However, both hikes are considered moderate difficulty levels overall by experienced trekkers and mountaineers alike.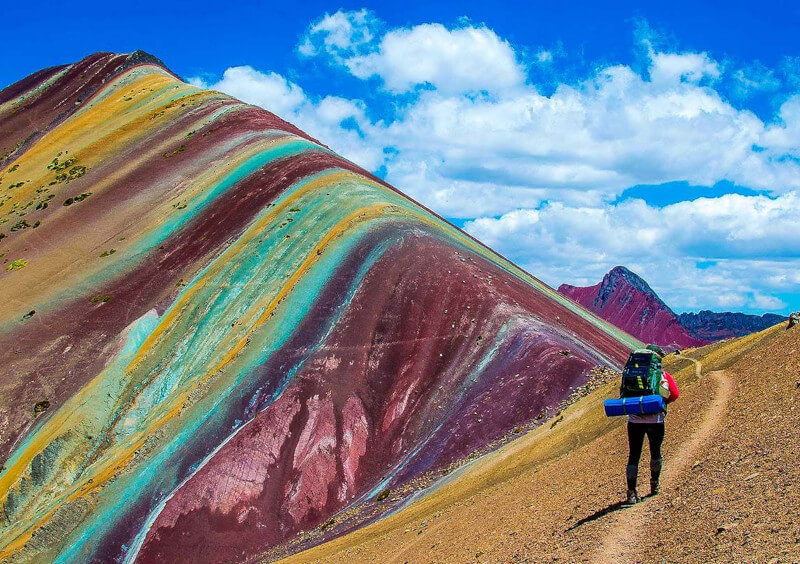 Should you hire a travel agency to visit Palccoyo?
It is highly recommended hiring a travel agency to visit Palccoyo for several reasons. First, they can provide you with valuable information about the area. They can also help you plan an itinerary that meets your needs and interests. They can also book accommodations, transport, and activities in advance so that everything runs smoothly upon arrival. Additionally, many travel agencies have relationships with local businesses. So, they can offer access to exclusive offers or discounts on services such as food or transportation. Finally, having someone knowledgeable who knows the lay of the land will give you peace of mind while traveling in an unfamiliar place.
Overall, if you are looking for an awe-inspiring view without having too many people around, then Palccoyo should definitely be on your list when visiting Peru! Whether you decide to go alone or with a group tour – either way this unique location won't disappoint!